STR delivers a complete line of hand-held visual inspection microscope cameras that will improve quality control and product examination and machine vision processes. These cameras are used extensively in electronic, semiconductor, medical device, research, and manufacturing industries.
Visual inspection of surfaces for defects or inconsistencies or for the examination of parts and components


Most efficient and inexpensive way to quickly examine objects for quality control



More portable, cost effective and easy to use wherever you are – no need to move samples to the lab
STR takes pride in providing excellent service and providing you with the best visual inspection microscope camera solution that will help improve your business.
Product Categories:
Featured Product:
The Proscope Mobile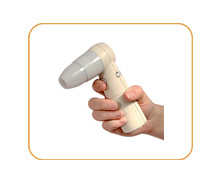 ProScope Mobile is the first Wi-Fi digital camera microscope available. The ProScope Mobile displays live images wirelessly to an iPhone, iPad, or iPod touch. It creates its own Wi-Fi network, allowing multiple devices within range to connect to it and display the live image on many screens simultaneously using the free AirMicro app.
Images can be captured simultaneously to all devices using the capture button on the camera handset; the images are saved right on the iPhone, iPad, or iPod touch for viewing or downloading. The ProScope Mobile is battery powered and uses the same lenses (1x up to 400x) and accessories as the ProScope HR2 and the Scope On A Rope L2.
Industry News:

Opinion: The latest flip-flop on red meat uses best science in place of best guesses - Los Angeles Times Read more...

The color of body fat might affect how trim people are - Science News for Students Read more...

2019 Nobel Prize in Physics: Evolution of the universe and discovery of exoplanet orbiting solar-type star - Science Daily Read more...